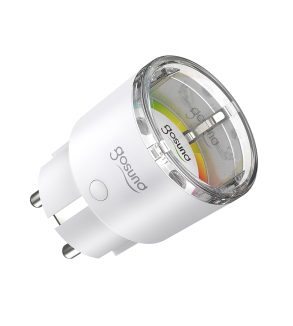 This smart plug connected by Wifi will allow you to see directly via your smartphone, whether a device is on or off. You can also turn it on remotely or schedule it at certain times of the day.
Compact, it will not prevent you from using all the sockets of your multiple sockets.
Thanks to it, follow your energy consumption and hunt your energy-consuming devices.
You can use it from anywhere as long as you have internet access (Wifi, 4G, ...).
This product contains:
1 * Wifi smart plug
1 * User manual
Remote control software download link (SmartLife):
Product description in video (FR):
Video link : https://www.youtube.com/watch?v=AvFzrRFNUQs
In this video, you will discover:
An overview of the product.
How to pair the connected socket with your smartphone.
How to perform a reset.
Add the connected outlet in the "Smart Life" application.
Use of the different functions (timer, programmer to turn on your device, energy monitoring, use with Alexa, ...)
Using the ON / OFF button:
The ON / OFF button can be used to turn the socket on or off (single press of the button).
The button can also be used to reset the connected socket. To reset, press the ON / OFF button for 5 seconds, until the light flashes.
When you unplug the plug, it is advisable to turn it off.
How to use your connected socket with your personal assistant? (example with Alexa. It's the same with Google Home)
In our example, the connected socket is called "iPhone charger" and is located in the "Test Room" room.
To activate it:
Say: "Alexa, Turn on" iPhone charger "".
if you have several connected sockets called "iPhone charger" in several rooms.
Say: "Alexa, Turn on" iPhone Charger "in" Test Room ""
This will result in leaving the "kitchen" "iPhone charger" on.
To deactivate it:
Say: "Alexa, turn off" iPhone charger "".
You can also create a routine through Alexa.
For example, when you leave your house, you could say, "Alexa, Goodbye" and have your smart plug cut off along with your other connected devices.
Do not hesitate to come back to us if you want more information or if you have questions about the product, Alexa, ...
email: info@smartcorner.be
visibility
View